Hi !!!!!!!!! In this page we are going to fangirl like crazy about our favorite fandoms (even if you are a boy you can continue reading, don´t let the title scare you off).
But first, you might be wondering what is a fangirl...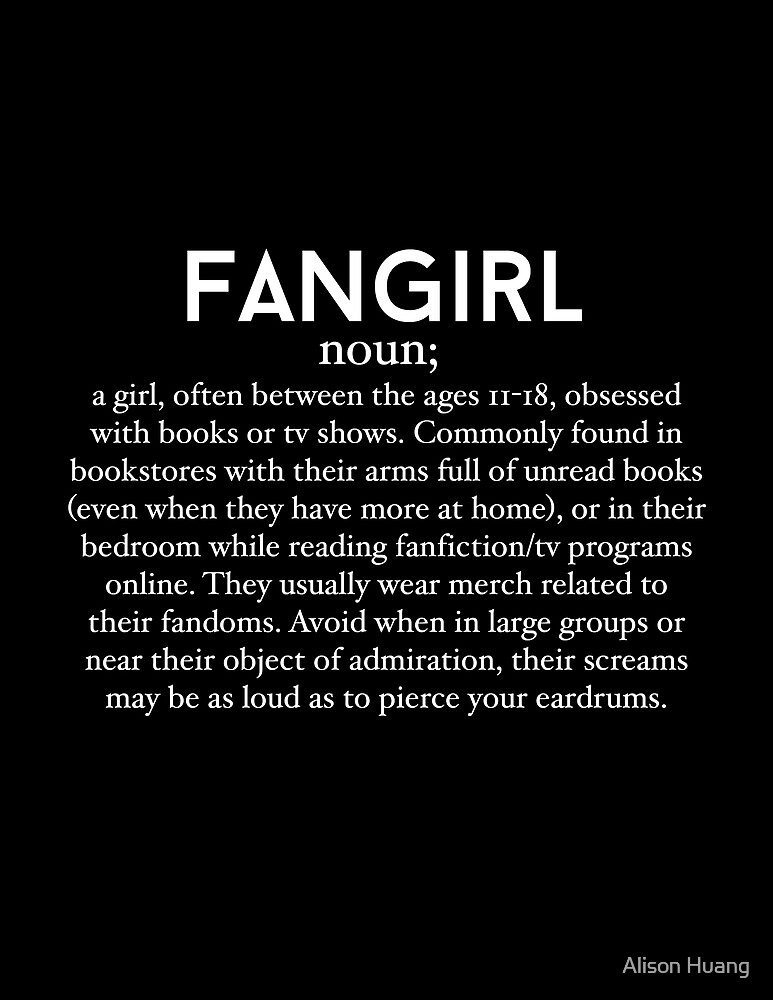 A fangirl is
(as tumblr wisely says)
a girl, aged
between 11 and 18
(there are multiple exceptions to this rule but we are going to stick with this for now)
,
who is obssesed with a fictional character and with the actor who plays him or her or a fandom

(a book or TV series)

.

We also add that they are also obsesed with fanarts

(art made by fans),

fanfics

(stories written by fans)

and fanvids

(videos made by fans).
We are going to sort the content of this webpage in fandoms
(or collections (for the ones that don´t speak fangirl)).
In each fandom we will post videos, fanfics, pictures and fanart. We will update new contetnt in each fandom section so DON´T LOOK FOR IT HERE, but in their respective fandom. We know this is a bit confusing so we will post an update on our home page each time we upload something new.
For now we have 4 fandoms: Harry Potter,
Percy Jackson,The Hunger Games
and
Divergent.
We will post new content at least once a month.
DISCLAIMER: If something is ours we will tell you so, if not just assume it isn´t. We might tell you who is the artist that has made or draw something if we can find it. However some times it is very difficult to find out to whom each piece of fanart belongs to . We will tell you who has written all the fanfictions that aren´t ours.
HARRY POTTER
FANART
Lily and James Potter by Viria
Funny conversation between Sirius and Harry
Harry and Ron
The Marauders in the Gryffindor Common Room by Viria
VIDEOS
What would happen if
Harry Potter characters
had a
cell phone
? By buzfeed
This is a really funny video about those things that
Dumbledore
does that would be really
creepy
if we did them.
This is a video about Neville Longbottom because we love him and there are really few good fanvideos about him.
This is a fanvideo about Harry Potter villians with the song Disturbia
:
This extremly funny fan-made video tells us how Harry Potter should have ended. A must see.
This fanmade video about Slytherins revolves around the song "We are Slytherins" a fanmade version of Kesha´s famous song.
COMING REALLY SOON!
"For the greater good", the fight of Dumblendore y Grindelwald
"Severus Snape and the Marauders", a fanfilm
A fanvideo about Harry Potterwith footage form the films and the song This is War
Video about Draco Malfoy with the song "Tell me something I don't know"
The Weasley,with the song Hey brother:
Video about Gryffindor with the song We rock:
Video about the Deatheaters with the song About to blow:
FANFICS
This fanfic is also a one-shot. It is about James Potter and Lily Evans. Written by
blueholly
.
We higly recommend a fanfic series called "The Darkness Within" by
Kurioone
IN THIS BLOG
We have written about Harry Potter in these posts and pages:
PERCY JACKSON and the HEROES OF OLYMPUS
FANART
Draw by Viria
Leo Valdez with his mom
Percy and Anabeth under the sea
We didn´t realise that Percy was the uncle of the little mermaid, did you?
Tyson building Percy's watch
Annabeth book and movie, do you see any difference?
VIDEOS
This video is about what an ideal cast for the characters of Heroes of Olympus would look like:
COMING SOON
Some videos made by Amy HunterofArtemiss :
One of Jasper (Jason and Piper)
One of Frazel (Frank andHazel)
One of all the couples together:
And one of Percabeth (Percy and Annabeth):
Then some videos from different authors
With the song "It's not over"
With the song "My songs know what you did in the dark"
Video about Nico di Angelo with the song "Down". The feeeeelsssssssssss!!!!!!!!!!!!!
This video with the song"Young Volcanoes"
FANFICS
Cursed so that Athena can never sense her, Annabeth is constantly attacked by monsters. At age three she was found in an alleyway by Sally Jackson and grew up as Percy's 'twin' sister. When the lighting bolt is stolen Athena slowly begins to realize that the demi-god helping Jackson is actually her own daughter.
Poseidon had already broken the promise of never having children when Percy was born. No one thought he had done it again.But when Percy finds out that Naia is actually his younger sister he has to believe it´s true.
We wrote a fanfic in Spanish called "Los nietos de Poseidon" (Poseidon´s Grandchildren). You can read it in Spanis complete
here, we are currrently translating it.
IN THIS BLOG
THE HUNGER GAMES
FANART
Katniss and Peeta, Disney syle ;)
VIDEOS
This video has the official song of the movie and images of the film:
COMING SOON
Prim y Katniss with the song "Safe and Sound":
And the song "The hanging tree" sang by Jenifer Lawrence
FANFICS
DIVERGENT
FANART
Four´s fears
VIDEOS
Insurgent´s trailer
COMING SOON
With the song"Angel with a shotgun":
With the song"Beating Heart"
FANFICS
IN THIS BLOG
And this is all for now, we hope you like it!